WATCHES & WRISTWATCHES
350 lots to auctioned at Bonhams on 24 May 2017, starting at 13:00 BST. London, Knightsbridge.
AUCTION VIEWINGS
LONDON, KNIGHTSBRIDGE
21 May 2017 11:00 - 15:00 BST
22 May 2017 09:00 - 16:30 BST
23 May 2017 09:00 - 16:30 BST
24 May 2017 09:00 - 11:30 BST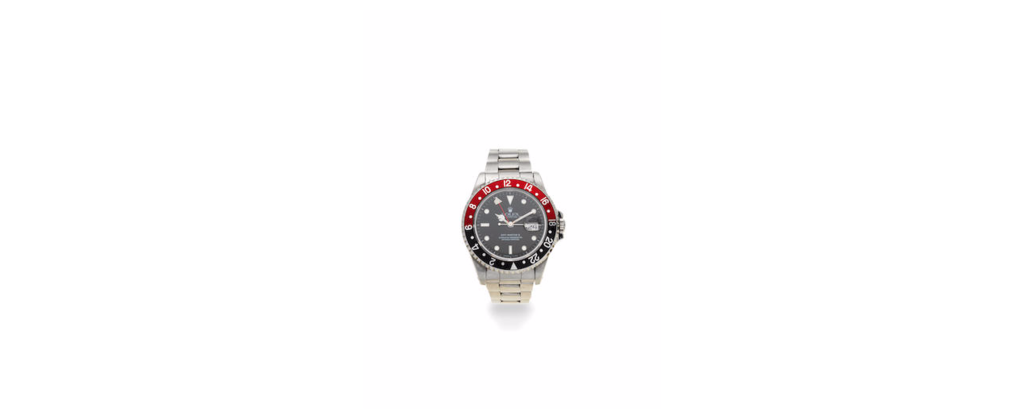 Lot 336
ROLEX. A STAINLESS STEEL AUTOMATIC CALENDAR BRACELET WATCH WITH DUAL TIME ZONE
GMT Master II, Ref: 16710, Circa 1993
£3,500 - 4,500
€4,100 - 5,300
Rolex. A stainless steel automatic calendar bracelet watch with dual time zone
Model: GMT Master II
Reference: 16710
Date: Circa 1993
Movement: 31-jewel Cal.3185 automatic, adjusted to 5 positions and temperatures, No.675****
Dial: Black, luminous dot hour markers, baton quarters, white outer minute divisions, magnified date aperture at 3, Mercedes hands with luminous inserts, centre seconds, red dual time zone hand
Case: Brushed and polished tonneau form, screw down back and shouldered crown, No.S44****
Strap/Bracelet: Brushed 78360 Oyster link
Buckle/Clasp: Signed folding clasp, stamped S 12
Signed: Case, dial & movement
Size: 40mm
Lot 209
OMEGA. A STAINLESS STEEL MILITARY ISSUE AUTOMATIC WRISTWATCH
Seamaster 300, Ref: 165.024, Circa 1967
£6,000 - 8,000
€7,100 - 9,400
Omega. A stainless steel military issue automatic wristwatch
Model: Seamaster 300
Reference: 165.024
Date: Circa 1967
Movement: 24-jewel Cal.1 552 automatic, No.26309137
Dial: Black, luminous baton hour markers, Arabic quarters, polished sword hands with luminous inserts and red tips, centre seconds
Case: Brushed and polished tonneau form, screw down back, back engraved '↑W10/923-7697 A/062/67', bi-directional calibrated bezel, fixed bars
Strap/Bracelet: Black leather
Buckle/Clasp: Steel buckle
Signed: Case, dial & movement
Size: 42mm

FOOTNOTES
The Military Seamaster 300 was manufactured for the British Forces under strict guidelines given by the Ministry of Defence. The official document includes the specifications of the solid bars for the attachment of a NATO style canvas strap, the bezel with minute register for the full 60 seconds, Tritium luminous paint applied to the hands and dial symbolised by a T in a circle on the latter and oversize hands for clear legibility. Due to the fact that this watch was very much a tool watch many were discarded, destroyed or changed making complete examples quite sought after.
Lot 208
ROLEX. A STAINLESS STEEL AUTOMATIC CALENDAR BRACELET WITH 'PEPSI' BEZEL AND DUAL TIME
GMT Master, Ref: 6542, Circa 1959
£4,000 - 6,000
€4,700 - 7,100
Rolex. A stainless steel automatic calendar bracelet with 'Pepsi' bezel and dual time
Model: GMT Master
Reference: 6542
Date: Circa 1959
Movement: 25-jewel Cal.1035 automatic, adjusted to 5 positions and temperatures, No.DN759***
Dial: Black, luminous filled gilt dot markers, baton quarters, gilt outer minute divisions, magnified date aperture at 3, gilt Mercedes hands with luminous inserts, centre seconds, arrow tipped dual time zone hand
Case: Brushed and polished tonneau form, screw down back and crown, inside back date coded II59, later blue and red 'Pepsi' bezel, No.482***
Strap/Bracelet: Brushed rivet Oyster link
Buckle/Clasp: Signed folding clasp, stamped 3 69
Signed: Case, dial & movement
Size: 38mm
Accompaniments: Rolex box
Lot 237Y
PATEK PHILIPPE. AN 18K GOLD MANUAL WIND SQUARE WRISTWATCH
Ref: 1486, Manufactured in 1944, Sold 1st December 1945
£3,000 - 4,000
€3,500 - 4,700
Patek Philippe. An 18K gold manual wind square wristwatch
Reference: 1486
Date: Manufactured in 1944, Sold 1st December 1945
Movement: 18-jewel manual wind, adjusted to 5 positions and 3 temperatures, No.911879
Dial: Later champagne, applied gilt Arabic numerals, black outer minute divisions, gilt leaf hands, subsidiary seconds at 6
Case: Patented water resistant brushed and polished square, back secured by sliding clamps in the band, No.636520
Strap/Bracelet: Brown lizard leather
Buckle/Clasp: Plated buckle
Signed: Case, dial & movement
Size: Case stamped FB for Francois Borgel, case, dial & movement signed Patek Philippe
Accompaniments: Extract from the Archives
Lot 239
PATEK PHILIPPE. AN 18K GOLD AUTOMATIC OVAL FORM WRISTWATCH RETAILED BY ARTE SUIZO
Ref: 3594, Circa 1972
£3,500 - 4,500
€4,100 - 5,300
Patek Philippe. An 18K gold automatic oval form wristwatch retailed by Arte Suizo
Reference: 3594
Date: Circa 1972
Movement: 36-jewel Cal.28-255C automatic, adjusted to heat, cold, isochronism and 5 positions, 21K gold rotor segment, No.1282624
Dial: Champagne signed Arte Suizo, black Roman numerals, polished pointed baton hands
Case: Brushed oval, snap on back, stepped textured bezel, No.523744
Strap/Bracelet: 18K gold bark finish
Buckle/Clasp: Signed 18K gold folding clasp
Signed: Case, dial & movement
Size: 33mm x 38mm
Accompaniments: Patek Philippe box
CONTACTS
BIDS (UK)
Bids
Tel: +44 20 7447 7447
Fax: +44 20 7447 7401
bids@bonhams.com

CUSTOMER SERVICES (UK)
Customer services
Tel: +44 20 7447 7447
Fax: +44 20 7447 7401
info@bonhams.com

WATCHES (UK)
General enquiries
Tel: +44 20 7447 7413
Fax: +44 20 7468 8370
watches@bonhams.com
PENELOPE MORRIS
Specialist - Watches
London, United Kingdom
Tel: +44 20 7393 3869
Penelope.Morris@bonhams.com