Luxury Online | Part 4
Watches and Jewelry
18 - 25 May 2020
Hong Kong, Admiralty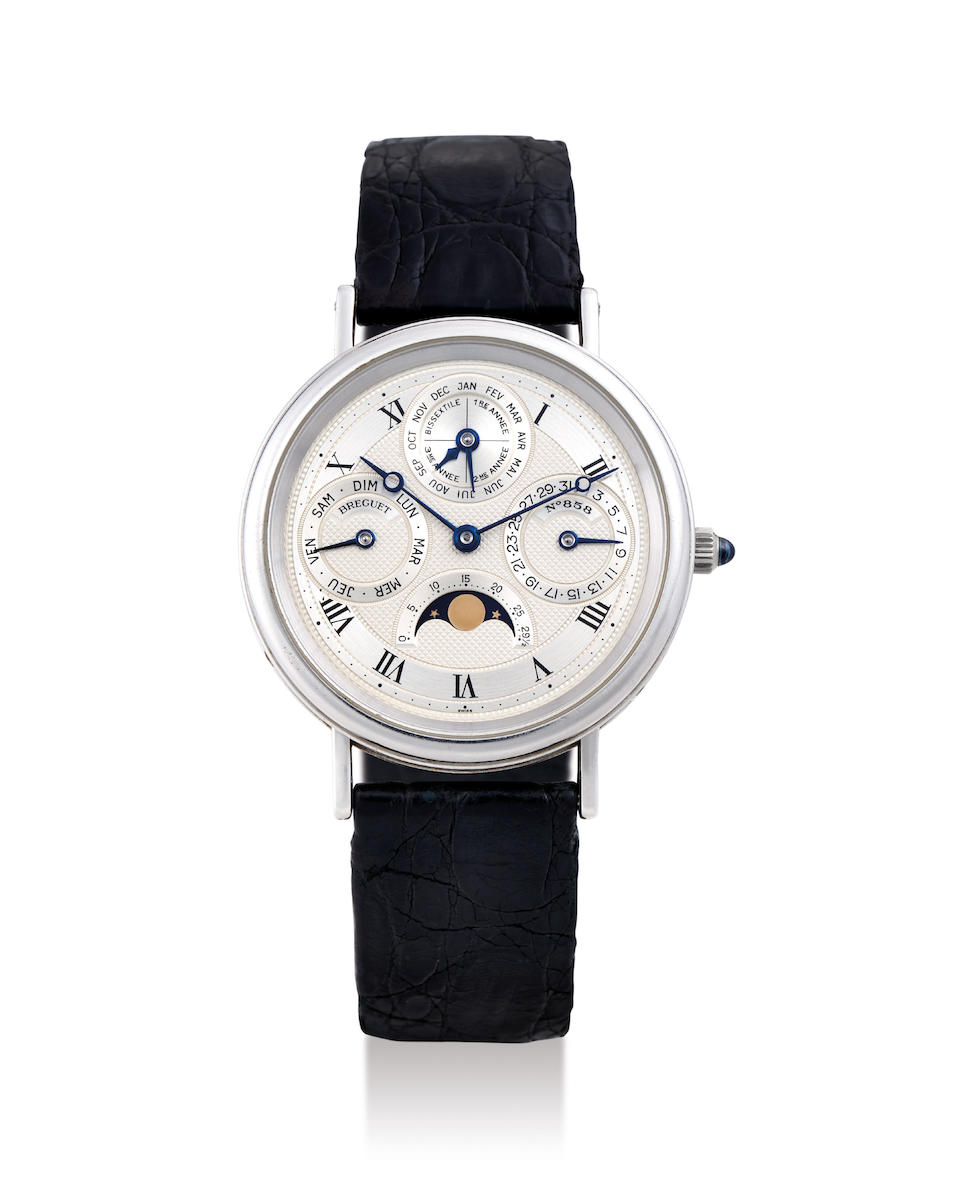 LOT 11 Y P BREGUET | CLASSIQUE COMPLICATIONS, A FINE PLATINUM PERPETUAL CALENDAR WRISTWATCH WITH MOON PHASES, 1994 (BOX, CERTIFICATE, AND ADDITIONAL STRAP) Estimated HK$ 70,000 - 120,000 US$ 9,000 - 15,000
Model/Reference: Classique Complications/ Ref.3050
Movement No: 333, signed
Case No: 858F, signed
Year: 1994
Calibre: 502, automatic
Dial: Silvered guilloche, signed
Case: 36mm, platinum, snap case back, signed
Strap: Endangered species, platinum buckle
Accompaniments: Breguet box, certificate, an additional endangered species strap, and copy of purchase receipt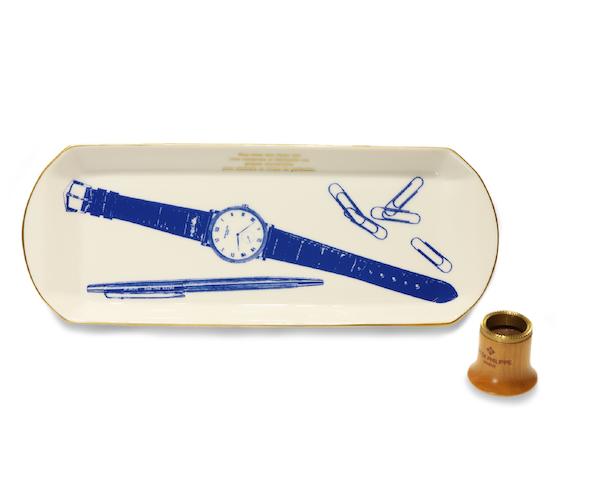 LOT 19P. PATEK PHILIPPE | A RARE VIDE POCHE PORCELAIN TRAY WITH LOUPE. Estimated HK$ 4,000 - 8,000 US$ 520 - 1,000
The top of the tray depicts an image of a Patek Philippe Calatrava watch Ref. 3919, a Patek Philippe ball point pen, and some paperclips. The edge of the tray says "Vous savez sans doute que nous concevons et fabriquons nos propres mouvements pour atteindre ce niveau de perfection" which translates to "You probably know that we design and manufacture our own movements to achieve this level of perfection." Approximate size: 26.5cm (length) * 10cm (width) * 2cm (depth) Accompaniment: Patek Philippe box and loupe.
LOT 22 BREGUET | WATCH NO.2929, A MINIATURE PINK GOLD OPEN FACE FOB WATCH WITH ORIGINAL MATCHING NUMBERED PRESENTATION BOX, CIRCA 1910. Estimated HK$ 15,000 - 30,000 US$ 1,900 - 3,900
Watch No: 2929
Case No: 3833
Year: Circa 1910
Calibre: Manual winding
Dial: White enamel
Case: 24mm, 18k pink gold, hinged cuvette case back, signed
Accompaniments: Breguet numbered presentation case, No.2929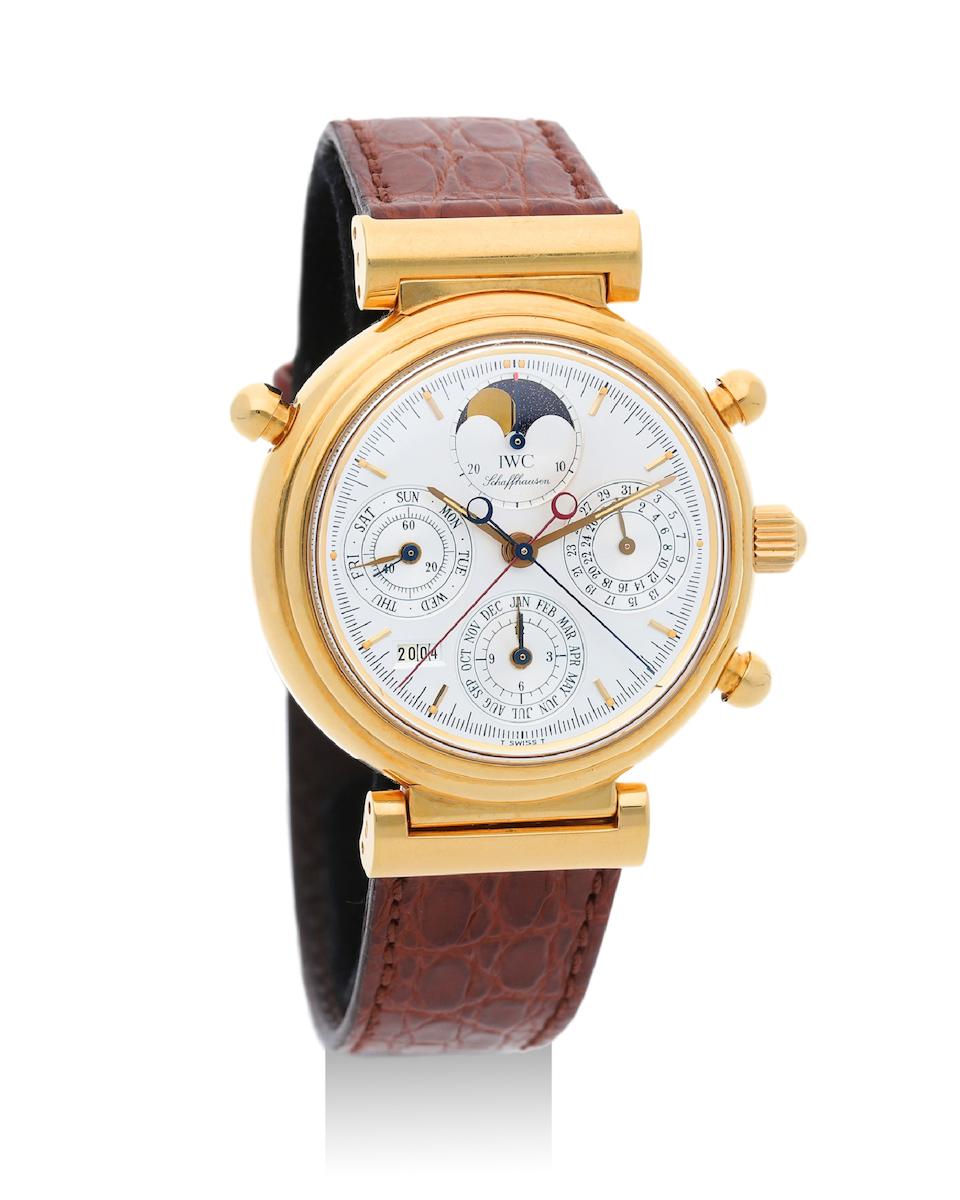 LOT 24Y. IWC | DA VINCI RATTRAPANTE, A FINE YELLOW PERPETUAL CALENDAR SPLIT SECOND CHRONOGRAPH WRISTWATCH WITH MOON PHASES, MANUFACTURED TO CELEBRATE THE 10TH ANNIVERSARY OF THE DA VINCI COLLECTION, CIRCA 1995. Estimated HK$ 35,000 - 60,000 US$ 4,500 - 7,700
Model/Reference: Da Vinci Rattrapante
Case No: 181 2624612
Year: Circa 1995
Calibre: 79251, automatic
Dial: White, signed
Case: 38mm, 18k yellow gold, snap case back, signed
Strap: Endangered species, 18k yellow gold buckle, signed
The Da Vinci Rattrapante was launched in 1995 to celebrate the 10th anniversary of the Da Vinci perpetual calendar. The dial features a sophisticated perpetual calendar with rattrapante chronograph function, and it is one of the most complicated timepieces that IWC have ever created. The word rattrapante is a French word, derived from rattraper, which means to catch up or recapturing. It is the distinctive feature of two sweeping seconds hands, stacked on top of each other until split. Its purpose is to allow the user to track multiple times in succession without having to reset the chronograph. This lot is technically distinctive and timeless in a way that appeals strongly to watch connoisseurs.
Last known retail price was CHF 28,000/ Approximately HKD 220,000
LOT 30Y. DE GRISOGONO | LIPSTICK, A PINK GOLD AND DIAMOND-SET RECTANGULAR BANGLE WATCH, CIRCA 2012. Estimated HK$ 50,000 - 100,000 US$ 6,500 - 13,000
Model/Reference: Lipstick
Case No: 017803
Year: Circa 2012
Calibre: Quartz
Dial: Pink gold, signed
Case: 46mm (width), 18k pink gold and diamond-set, diamond-set pushers to release the cuff, screw case back, signed
Cuff: Endangered species, 18k pink gold, signed
Accompaniments: Two additional endangered species and 18k pink gold cuffs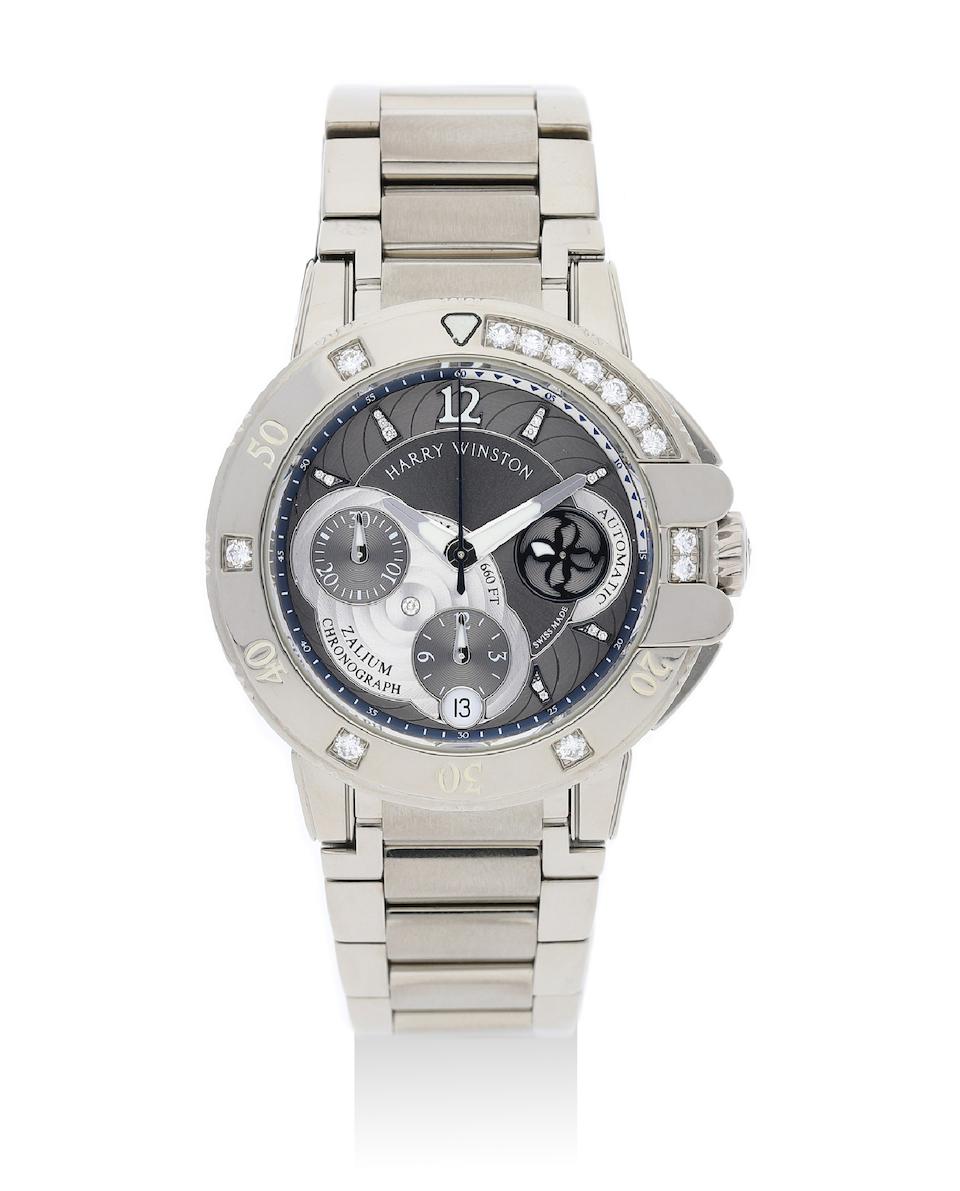 LOT 36. HARRY WINSTON | OCEAN SPORT CHRONOGRAPH, A LIMITED EDITION ZALIUM AND DIAMOND-SET CHRONOGRAPH BRACELET WATCH WITH DATE, 2013. Estimated HK$ 70,000 - 120,000 US$ 9,000 - 15,000
Model/Reference: Ocean Sport Chronograph, Limited Edition
Case No: 377 056433
Year: 2013
Calibre: 1185, automatic
Dial: Silvered, signed
Case: 39mm, zalium with diamonds on bezel, screw case back, signed
Bracelet: Zalium bracelet with double folding deployant clasp, signed, approximately 185mm
Accompaniments: Harry Winston box and certificate